Ways to Flavor your BBQ with Woods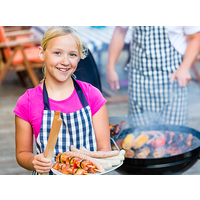 Types of Wood for Barbecue
The Fruit Woods
Fruit woods tend to be milder in flavour and have always been popular to use.
Apple – Is a mild, sweet, smoke which is exceptionally good on Poultry. It is versatile enough to be great on pork, and beef, you can't go wrong with Apple.
Cherry – Is a popular wood as well, especially Wild Cherry wood. Like Apple, Cherry is very well suited for poultry, but in some areas it is just as popular to use with Beef. Cherry can also be used on all meats, but be careful, too much can make your meat very dark in color, especially when using wild cherry.
Peach – This is a southern favorite, a mild very sweet wood is extremely well suited for pork and poultry, although like the others so far, can work great on all meats.
Citrus – Orange is likely the most popular out of the citrus woods to use, but they all are very similar, and you would likely not be able to tell the difference. Citrus is a very light, mild wood, which is great on all meats.
Guava – Even though it is not real popular, I had to include this wood because I feel it deserves to be here. Like citrus, it is a mild smoke, very good with poultry, and it is versatile enough to use on all meats.
Nut Woods
Hickory – This is likely the favorite of this type of wood, and like the oak has several related varieties. Hickory is a bold pleasant flavored smoke which is best suited for pork, and beef, but can be used for poultry as well. If you know how to use it, you can also use it for all meats.
Oak – Even though hickory could be considered the favorite, oak is likely the most used, and this is mostly because of the vast varieties of oak, which makes it the most common based on availability. It is the most versatile, and even though you have mild varieties and not so mild varieties, it can be used for all meats. Oak is an excellent wood for direct grilling.
Pecan – A close cousin to the hickory tree, a little milder, and very popular in the Deep South. Pecan is a good wood for all meats.
Black Walnut – Not a favorite of mine, but it is considered a smoking wood. It is a strong flavored smoke, and it is best suited, for thick cuts of beef, or pork.
Other Popular Hard Woods
Maple or Sugar Maple – This wood is close to hickory or pecan, but sweeter. It is very popular to use with bacon, and all cuts of pork. It can be used for all meats if desired.
Mesquite – This is a very popular wood, which was fortunate for ranchers in the southwest who consider this to be a weed. Mesquite is strong as a smoking wood, and should be used sparingly. However, I highly recommend Mesquite as a direct grilling wood, in my opinion the best for steaks.
Alder – This is a mild smoke for the most part, and as a result is used a lot for smoking fish. It can be used on all meats, and it is very popular in some areas, and is used as a base in some pellets. Alder does make a great direct grilling wood.
---
Leave a comment