Charcoal Chicken with Peri Peri Sauce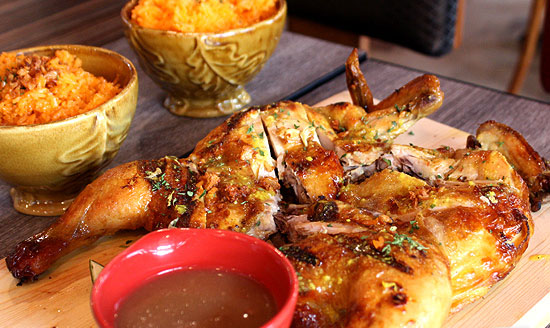 | | | |
| --- | --- | --- |
| Ingredients Required: | Marinade Requires: | Peri Peri Sauce Requires: |
| | | 10–12 Birdseye Chillies, chopped finely (Medium Size & Medium Heat) |
| | Pinch of Salt & Rock Salt | |
| | | |
| | 1 Tea Spoon of Bay Leaf Powder | |
| | | 2 Table Spoons of Garlic Powder |
| | 2 Shots of Scotch Whisky (80mls) | |
| | 2 Table Spoons of Very Soft Butter | |

PROCEDURES:
Step 1: Prepare the Ingredients Wash the Chicken and trim away excess fat. Then use a sharp knife or kitchen scissors to cut the chicken through the breastbone. Open out, turn over and flatten by pressing down with your hand along the backbone. Make a small cut under each wing to help it flatten further. Make several incisions in the flesh with a sharp knife. This will allow the flesh to absorb the marinade and allow fat to drain. Prick all over with a large fork.
Step 2: Marinate the Meat Mix all ingredients for the marinade together then brush both sides of the Chicken with the marinade and sprinkle with rock salt. Cover and marinate in the fridge for 30–45 minutes.
Step 3: Prepare the Cyprus Grill Get the Cyprus Grill ready 20-30 minutes before you plan to cook. Note: It is ready to cook on when there are no more flames and the charcoal has turned white.
Step 4: Make Rotating Cage Place the Chicken on the Rotating cage with the wings facing outward on either end. Secure the Rotating Cage with a wire so the latch does not open during cooking and attach it to the Cyprus Grill.
Step 5: Barbecue Skewers Set the meat on a high level for 30-40 minutes, whilst continuously basting with the remaining marinade then set it lower for another 20-30 minutes to be cooked until both sides are golden brown. Once cooked remove from the grill and place on a baking tray.
Step 6: Serve and Enjoy Cut the Chicken into pieces with kitchen scissors and brush with Piri Piri sauce Serve immediately straight off the grill. The Chicken can be served with Pita bread, Tzatziki sauce, Couscous and a few sliced tomatoes
How to cook Portuguese Charcoal Chicken in a Cyprus Grill Rotating Cage