Chicken Souvlaki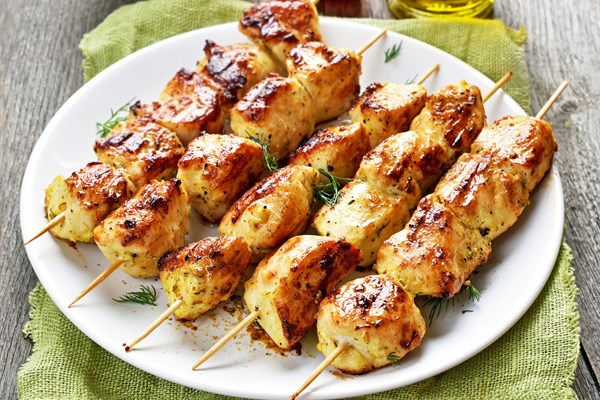 | | | |
| --- | --- | --- |
| | Ingredients Requires: | |
| | 8 Pieces of Boneless Chicken Breasts, Cut in Pieces | |
| | | |
| | | |
| | | |
| | | |
| | | |
| | | |
PROCEDURES:
Step 1: Prepare the Ingredients
Wash the Chicken Breasts with water so they are ready to cook.


Step 2: Marinate the Meat
Prepare a Marinade of Olive Oil, Freshly Squeezed Lemon Juice and Oregano. Add Chicken pieces to the Marinade and mix everything well to cover the meat completely. Put it in the refrigerator and keep it overnight, so that the flavours of the ingredients mix well.


Step 3: Prepare the Cyprus Grill
Get the Cyprus Grill ready 20-30 minutes before you plan to cook. Note: It is ready to cook on when there are no more flames and the charcoal has turned white.


Step 4: Make Skewers
The following day, when ready to prepare your Chicken Souvlaki, put 1 piece of Chicken on the Skewer, then a piece of Bell Pepper, then a slice of Red Onion. Again, start with Chicken and keep repeating steps until you fill skewer by skewer. Add Salt & Pepper for taste. (You can also use tomato slices in-between the Red Onion and Bell Pepper). Your skewers are now ready to barbecue.


Step 5: Barbecue Skewers
Set the meat on a high level for 20-30 minutes, then set it lower for another 15-30 minutes to be cooked. Once cooked remove from the grill and place on a baking tray.


Step 6: Serve and Enjoy
Serve immediately straight off the grill, on a plate with Grilled Pita Bread. The Meat can be served with a Tzatziki or Garlic sauce, Couscous and a few sliced tomatoes.