Chicken-Thigh Souvlaki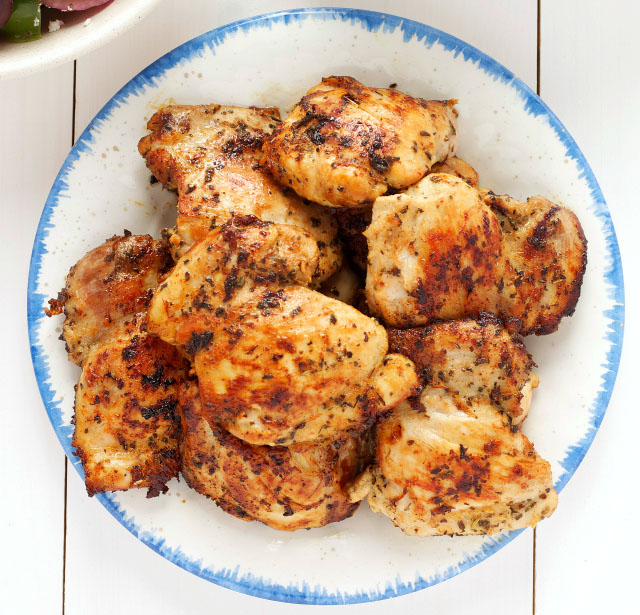 | | | |
| --- | --- | --- |
| | Ingredients Required: | |
| | | |
| | | |
| | | |
| | | |
| | | |
| | | |
| | | |
PROCEDURES:
Step 1: Prepare the Ingredients
Wash the Chicken-Thighs with water so they are ready to cook.


Step 2: Marinate the Meat
Add the prepared Chicken-Thighs to the Marinade of Olive Oil, Freshly Squeezed Lemon Juice, Thyme, Dry Oregano, Mustard, Salt and Pepper. Mix all the marinade ingredients well, being sure that all the Thighs are abundantly covered by the Marinade. Leave to marinate for between 12-24 hours. Keep refrigerated.


Step 3: Prepare the Cyprus Grill
Get the Cyprus Grill ready 20-30 minutes before you plan to cook. Note: It is ready to cook on when there are no more flames and the charcoal has turned white.


Step 4: Make Skewers
Thread pieces of Meat onto the Skewers or into the Rotating Cage in such a way that it will not self-rotate whilst cooking. You may even choose to grill them on the Stainless Steel Grill. Your skewers are now ready to barbecue.


Step 5: Barbecue Skewers
Set the meat on a high level for 20-30 minutes, then set it lower for another 10-20 minutes to be cooked. Once cooked remove from the grill and place on a baking tray.


Step 6: Serve and Enjoy
Serve immediately straight off the grill. The Meat can be served with Pita bread, Tzatziki sauce, Couscous and a few sliced tomatoes.