Grilled Vegetable Souvlaki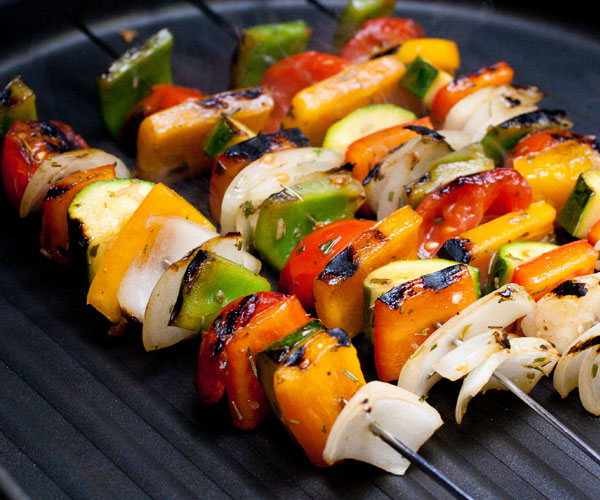 | | | |
| --- | --- | --- |
| | Ingredients Required: | |
| | | |
| | Bell Peppers - Red, Green, Yellow | |
| | | |
| | | |
| | | |
| | | |
PROCEDURES:
Step 1: Prepare the Ingredients
Wash and prepare the vegetables for the Skewers. Cut them in bite-size pieces. Be careful not to cut the red onions in too small pieces.


Step 2: Marinate the Vegetables
In the bowl of olive oil, mix the dry oregano, salt and pepper (if using), and add the cut vegetables making sure that each piece is fully covered by the marinade.


Step 3: Prepare the Cyprus Grill
Get the Cyprus Grill ready 20-30 minutes before you plan to cook. Note: It is ready to cook on when there are no more flames and the charcoal has turned white.


Step 4: Make Skewers
Place each piece on the Skewers the way you want until all the ingredients are used. Their different colours will give you a few options to play with for visual effect. Your skewers are now ready to barbecue.


Step 5: Barbecue Skewers
Place the Skewers on the Cyprus Grill and turn the motor on and let them cook until achieving desired results. Once cooked remove from the grill and place on a baking tray.


Step 6: Serve and Enjoy
Serve immediately straight off the grill. They can be served with Pita bread, Couscous, and a few sliced tomatoes.