Octopus Souvlaki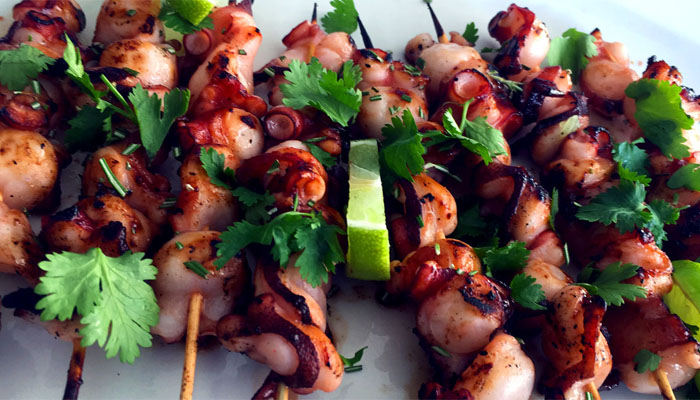 | | | |
| --- | --- | --- |
| | Ingredients Required: | |
| | | |
| | | |
| | 5 - 6 Garlic Cloves, Mashed | |
| | | |
| | | |
| | | |
| | | |
| | | |
PROCEDURES:
Step 1: Prepare the Ingredients
Look for frozen octopus if you are not a huge fan of fresh seafood and if you don't have much time for cleaning it. Whilst defrosting it, begin to prepare the marinate.


Step 2: Marinate the Meat
Make a Marinade of Olive Oil, Freshly Squeezed Lemon Juice, Mashed Garlic Cloves and Cut Basil Leaves. Now dry the Octopus meat and cut in the pieces you will put on Skewers (if you are using bigger Octopus). Once done, put the meat in a plastic bag, add marinade and shake everything really well so that all Octopus pieces are well coated. Marinate for between 4-5 hours, shaking the plastic bag at least a couple of times. For improved results keep marinate overnight. Always keep refrigerated.


Step 3: Prepare the Cyprus Grill
Get the Cyprus Grill ready 20-30 minutes before you plan to cook. Note: It is ready to cook on when there are no more flames and the charcoal has turned white.


Step 4: Make Skewers
Secure the Octopus pieces onto the Skewers with Lemon Slices on both sides and add some Lemon Slices in-between the Octopus pieces in such a way that it will not self rotate whilst cooking. Your skewers are now ready to barbecue.


Step 5: Barbecue Skewers
Set the meat on a high level for 10-20 minutes, then set it lower for another 5-10 minutes to be cooked. Once cooked remove from the grill and place on a baking tray.


Step 6: Serve and Enjoy
Serve immediately straight off the grill. The Octopus can be served with a Fresh Garden Salad and additional pieces of Lemon.