Dellware Silent 60 Litre Motel Quiet Mini Bar Fridge With Solid Door And Lock - DW60E
This is truly a great fridge that will serve you well for a long time.
It is silent running, can do 0°C, (zero) in ambient 20°C no problems and made for use in motels, hotels, homes, nursing homes and all types of accommodation venues. See test in Downloads Tab, unit ran and reached -5°C (minus 5°C).
Silent running with plenty of storage options.
DIMENSIONS:

EXTERNAL:-
Width:460mm
Depth:495mm
Height:605mm
A built in fridge adds a touch of class
If you are building this fridge in, your cavity will need to be at least 500mm wide, 625mm high and 580mm deep.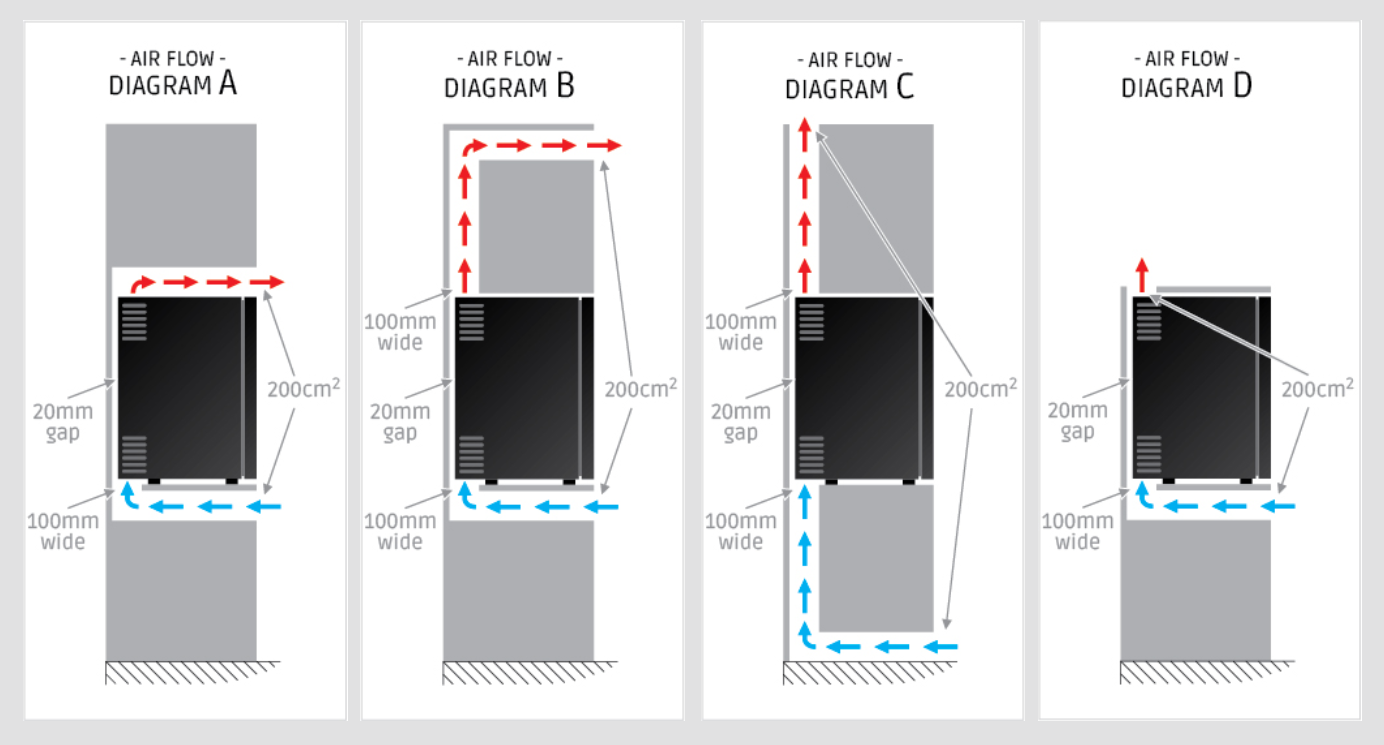 Minibar installation instructions
1. Minibar must stand on a level surface.
2. There should be 20mm clearance to the rear wall. No clearance required for the minibar top, side and bottom.
3. Air must be freely circulated through the cooling system.
4. Air must be preheated by any source of heat.
5. In case that grills are added to the air in or out, an opening of 200cm2 minimum must be assured.
6. A chimney is created in the back. Cold air enters through the furniture at the base, passes through the cooling system, and warm air rises and escapes.
Important information
1. The 200cm2 is calculated with L x W, ie; 20cmW x 10cmH = 200cm2
2. If cabinet is 'open' at front you need approximately 20mm minimum ventilation at sides, then rear exit point either above or 'over' the fridge. If unit has cabinet door in front of fridge door you need vent under unit, at rear of unit, including 100mm open under units and at top.
3. If you have another idea of method to install please contact us so we can advise, there are other wayts to install, this is just the most common way.
(DW60E)
| | |
| --- | --- |
| SKU | DW60E |
| Barcode # | 9351886000174 |
| Brand | Dellware |
Be The First To Review This Product!
Help other Cyprus Grill users shop smarter by writing reviews for products you have purchased.