PRODUCT MANUAL


Download Product Manual for Deluxe Auto Cyprus Grill
Download Product Manual for Mini Cyprus Grill
Download Product Manual for Modern Cyprus Grill
Download Product Manual for Stainless Steel Cyprus Grill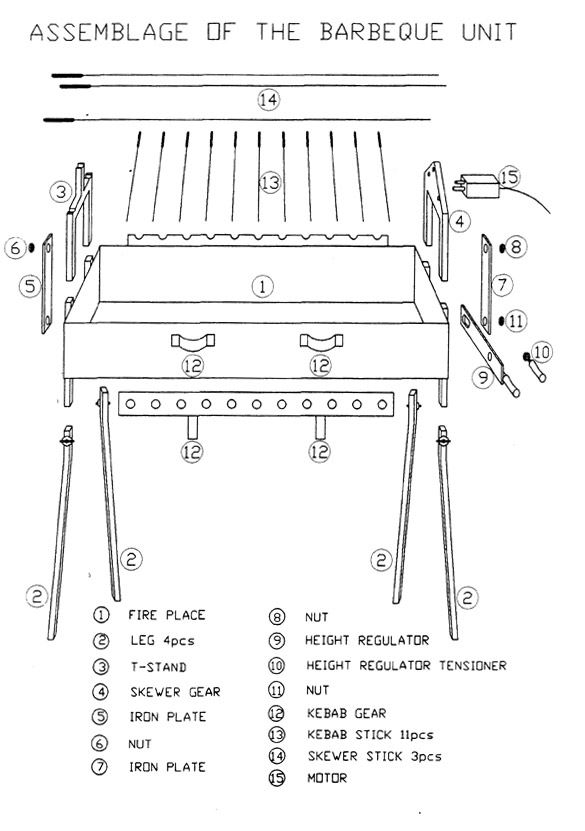 CYPRUS GRILL® ASSEMBLY STEPS:
First correctly orient the Main Body (Fire Bowl) (10) in front of you (See above Cyprus Grill® Assembly map)
A: Attach (hammer) the Wooden Handles (1) to the Stainless Steel Large Skewers (2)
B: Attach the Metal Legs (9) to the Main Body (Fire Bowl) (10) using the Butterfly Screws (13)that are attached to the legs.
C: Place the Skewer Support T-Stand (5) at the left side of the Main Body (Fire Bowl) (10) Then place the Metal Strip (3) vertically and adjust it by using the two Bolt Nuts (4).
D: Place the Large Skewer Gear Set (6) at the right side of the Main Body (Fire Bowl) (10). Then Place the Metal Strip (3) vertically and adjust it on top by using only one Bolt Nut (4). Then place the Wooden Handle Metal Lever (7) and Join it together with the bottom of the vertical Metal Strip (3) by using the Bolt Nut (4).
Then use the Wooden Handle Lock Nut (8) to lock the system at a comfort level.
E: Simply attach the Small Skewer Gear Set (11) to the hooks placed at the back of the Main Body (Fire Bowl) (10)
Place carefully the Stainless Steel Small Skewers (12) or the Stainless Steel Large Skewers (2) to the correct Gear Set and always use only D/C MOTORS which are suitable for use on The Cyprus Grill®.
Watch Instruction Video at Youtube: https://www.youtube.com/watch?v=nzyiZUQzy1o
CYPRUS GRILL® PARTS
1. WOODEN HANDLES X 3pcs
2. STAINLESS STEEL LARGE SKEWERS X 3pcs
3. METAL STRIP X 2pcs
4. BOLT NUTS X 4pcs
5. SKEWER SUPPORT T-STAND X 1pcs
6. LARGE SKEWER GEAR SET X 1pcs
7. WOODEN HANDLE METAL LEVER X 1pcs
8. WOODEN HANDLE LOCK NUT X 1pcs
9. METAL LEGS X 4pcs
10. MAIN BODY (FIRE BOWL) X 1pcs
11. SMALL SKEWER GEAR SET X 1pcs
12. STAINLESS STEEL SMALL SKEWERS X 7pcs
13. BUTTERFLY SCREW X 4pcs
14. MOTOR X 1pcs
IMPORTANT SAFEGUARDS
When using the Cyprus Grill® or any of its electrical accessories, basic safety precautions should always be followed including:
Reading all the instructions
Do not touch hot surfaces. Use handles or levers instead.
To protect against electrical shock do not immerse cords, plugs, or motors in water or other liquids.
Close supervision is necessary when any Barbecue is used near children.
Unplug accessories from outlet when not in use and before cleaning. Allow to cool before putting on or taking off parts.
Do not operate any electrical appliance with a damaged cord or plug or after the appliance malfunctions or has been damaged in any manner.
Return appliance to store of purchase for examination, repair, adjustment or replacement.
The use of accessory attachments that are not recommended by the barbecue manufacturer may cause injuries.
Do not let electrical cords hang over the edge of tables or counters, or touch hot surfaces.
Do not place electrical appliances on or near hot gas, electric burner or in a heater oven.
Extreme caution must be used when moving the Barbecue or accessories containing hot charcoal or other flammable material.
Always attach plug to appliance first, then plug the cord into the wall outlet. To disconnect, turn any control to the "off" position, then remove plug from the wall outlet.
Do not use electrical motors for other than their intended use
Save these instructions.
This Barbecue and appliances are not intended for use by young children or frail persons without supervision.
Young children should be supervised to ensure that they do not touch the Barbecue.
How to Prepare the Cyprus Grill for Cooking:
Place the Cyprus Grill® in open air, away from materials that could light up from fire or heat.
Put in the Cyprus Grill® enough quantity of charcoal to cook your meat.
Set fire to the charcoal pile by using Kindling or other materials that could easily burn.
Leave the pile for a while until the charcoal is well burnt and you don't have flames burning.
You are ready to put your meal on to be cooked.
Cleaning / Care Instructions:
By following these simple steps, your Cyprus Grill® will provide you with many years of use.