---

We recently had a visit from our good friend and reality T.V. star Steve Georgiou from MKR.
He is really as nice in person as he was on the show.
Well Done Helen & Steve!!! Best Wishes from the Team here at Cyprus Grill.
Souvla - Roast BBQ Rotisserie Spit
Souvla (Greek style of bbq) has many times been humorously called the national food of Cyprus, which for some is quite fitting as it depicts Cypriots as meat lovers. It is Cyprus' version of barbecue and is usually enjoyed on special occasions, especially after periods of fasting like Christmas and Easter.
Souvla bbq meat is made from large pieces of pork, chicken or lamb passed on large skewers (spit rod) and then slowly spit roasted over hot charcoal on a rotisserie style charcoal bbq grill called a foukou.

The Cyprus Grill (traditionally known as a foukou) is an integral part of the process for cooking both souvla and souvlaki, For souvla, the long side of the Cyprus Grill is used, in contrast to souvlaki where the shorter skewers are placed across the width of the bbq grill. The uniform cooking of the meat is ensured by the use of a battery-powered motor that rotates the skewers (spit rods) either along it's length or across it's width at the same time (with an additional motor). There are two levels for cooking charcoal rotisserie spits on the Cyprus Grill, which allows simultaneous cooking of up to three souvlas (two at the bottom, one at the top). Our Modern Cyprus Charcoal Grill has three Spit rods all on the same level so you can spit roast all your meat together at the same time.

Unlike souvlaki, souvla is sometimes marinated before grilling. People are known to use oregano and white or red wine as marinades, even though it is up to the souvla maker and his or her creativity. Purists prefer the meat with plenty of salt.
You will find souvla at most Cypriot restaurants as part of meze, it will almost always be served at traditional weddings and is the centrepiece of a feast at celebrations right after fasting. The Original Cyprus Grill brings you the authentic barbeque quality and taste of a Cypriot kitchen to your home. Now you can cook a roast spit like the pros.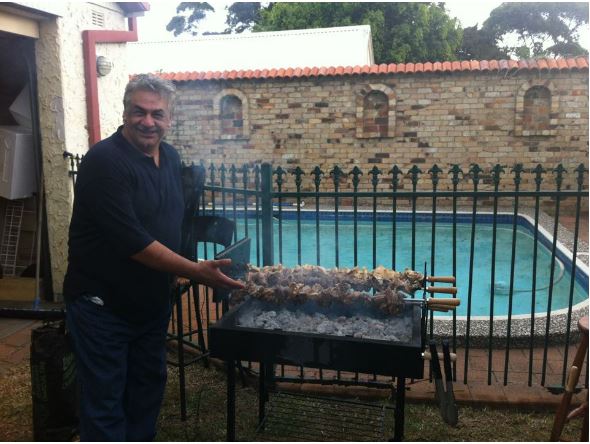 You can now follow Helen and Steve from My Kitchen Rules
We Love our BBQ Spits and we Know you do to!
If you have photos of your latest and greatest barebeque spit creations, send them in to us & we will post them up on our website. It's always great seeing people cooking on these Big Spit barbeques. If you have any images showing the meat sizzling over hot charcoal embers, then we want to see it.
If you are an existing or new customer, just let us know and we will send you a complimentary gift just for entering. You can email it in to us at support@thebbqstore.com.au. We enjoy seeing you cooking on our spits and I'm sure others will too.
We are updating our latest spit roast recipes and would love to hear of your traditional family style of cooking. You never know, you might be the next king of the Spit. To upload your recipe just visit:http://www.cyprusgrill.com.au/RECIPES.htm